The positive side to social technology, and newly created trends.
Love it or hate it, technology and social media are here to stay and will only evolve and grow. Much is written about the negative impact social media and certain social technologies have on our lives. There is no denying there is a dark side, but here I want to talk about the positives, especially at a time when, let's face it, we need it more than ever.
Current world events are causing trends to be created. It is most likely that these are simply accelerated trends that no marketer could have predicted, but will now have to adapt to in what is sure to be an uncertain year ahead. Many forward thinking businesses had already adopted a war chest of technology and platforms to keep their business ahead of the curve. Many end users had already adopted a plethora of social platforms and discovered their many uses, whereas others have been forced to use or discover them.
At present, various communication technologies are keeping people and businesses connected. I am able to constantly message and video call my parents, my niece, my sister, send them photos of my son and memes to keep them smiling. Businesses are harnessing Google Hangouts, Zoom, Microsoft Teams meetings and the like to stay connected and keep their businesses and teams moving forward at this difficult time.
Social media, on the other hand, is providing the news and entertainment. When used correctly it can give hope, raise a smile and keep people updated and connected with the world.
"If we can't all get together, we can still get together is the resounding message."
Used properly there is so much to gain from it.  In case you have missed it, here are some of the highlights of the good social media can do at a time of crisis…particularly the current one…
Thank you Baked Potato
A big highlight at the beginning of the Coronavirus outbreak was Little Britain star Matt Lucas and his fantastic rendition of 'Thank You Baked Potato.' It started as a short piano piece uploaded to his social channels before going viral. It has since been produced as a song with a music video and digital download, with proceeds going to Feed NHS, a superb charity raising money to feed NHS workers. There has even been a book release to accompany the song!
The baked potato was there to tell us wrong from right and remind us all to keep our distance, stay indoors, wash our hands, don't touch our face and only visit grocery stores. Having been uploaded and shared millions of times on social media, the video was uploaded to YouTube.
What followed was a mass of people replicating the song and uploading it to their own social channels, some being liked and re-tweeted by Matt himself. There was even a rendition by the Clangers! Matt's song was being played everywhere and soon he was collaborating with others. Some collaborations took place via Chinese video sharing platform TikTok with many celebrity collaborations, including Brian May, Gary Barlow and Myleene Klass, taking place via Facetime and shared on social.
Matt produced a song that not only taught us what to do, but also helped raise a smile, brought people together and continues to raise money for a great cause. It comes to something when your 3 year old walks through the living room singing "Thank you baked potato" on repeat!
So much good came from such small beginnings, people were making baked potatoes, kids were drawing them..brilliant!
Joseph Parker
Heavyweight boxer Joseph Parker started to own social media during the lockdown, producing quite brilliant videos from his home in New Zealand. Social media was Joseph's world and we were just living in it!
A likable fighter, who won many fans in the UK following his fight with Anthony Joshua, took to social media to entertain the world. First up was a rendition of The Foundations classic Build Me Up Buttercup. The intro was played by Joseph before boxing stars from around the world collaborated, miming and dancing to the song.
Joseph then hilariously copied Hugh Grants' famous scene from Love Actually where he, believing to be alone, danced around his home to The Pointer Sisters hit Jump (For My Love) which culminated in Joseph being met by his wife and child looking on in disbelief.
Further videos included a collaboration with his wife recreating a scene from musical Grease, a friend running out of toilet paper Neighbours style, and the classic Sweet Child of Mine scene from the Will Ferrell/John C Riley movie Step Brothers.
I can't wait to see what he comes up with next. The best thing about these posts…all smiles and huge positivity from around the world.
For more follow Joseph on Twitter, Facebook and Instagram, you won't be disappointed! @joeboxerparker.
Rainbows
People have united around many hashtags down the years. This time people have been showing their love for the NHS and our amazing frontline and key workers across social media. Amazing rainbows, videos of applause, even 10 Downing Street have been sharing their favourite rainbow pictures. If you look hard enough there is an incredible amount of love on social media.
The meme
There is nothing new to note here, just an influx of specific memes you would expect during any high profile period.
It should be noted at this point that there is nothing funny about the Coronavirus outbreak. People have been losing their lives, people have been forced to stay indoors, frontline and key workers are putting their lives at risk, people are struggling with their mental health, people are losing their livelihoods and businesses are struggling.
The one thing that can unite us at these difficult times is the ability to make others smile. What have we got if can't have a smile?
Some of my favourite memes at this time have done just that…
The rise and rise (and rise) of TikTok
TikTok, if you haven't already heard, is a Chinese video sharing social network platform launched in 2017. Despite it only being around for a short few years its popularity has been astronomical. To the delight of the 'younger' generation there is ever more content and challenges. Also, to the despair of the 'younger' generation, the current lockdown has seen a surge in users over 30.
Celebrities have now also discovered it with many TikTok videos finding their way to other social platforms, with the platform estimated to have over 800 million active users worldwide.
As well as the hugely fun challenges and dances like They Call Me Tiago, Blinding Lights, You Can Really Dance and The Spook dancing challenge and so on, there is also a really heart-warming trend towards recreating childhood photos. Also, if you're into animals @lewiscatpaldi is worth a follow.
Go ahead…have some fun. Especially the over 30s 😉
There has been a notable increase in the number of live events on social media, in particular Instagram and Facebook live. Never before has the Instagram live stories icon shown so much on my phone. Celebrities have discovered collaborating, setting up chats with each other allowing users to listen in to the chat and message.
Radio DJ Chris Moyles has been busy from his home, broadcasting live DJ sets on Facebook. Ex-Charlatans front man Tim Burgess has introduced us to the Twitter album listening party, aimed at getting fans together to listen to selected albums using the hashtag #TimsTwitterListeningParty and website timstwitterlisteningparty.com.
German high fidelity product designers and producers Sennheiser have been holding Instagram Live videos with performances from various artists around the world to superb effect. Not to mention a quite epic DJ set from Themba!
Bringing people together through the power of music has always been a winner.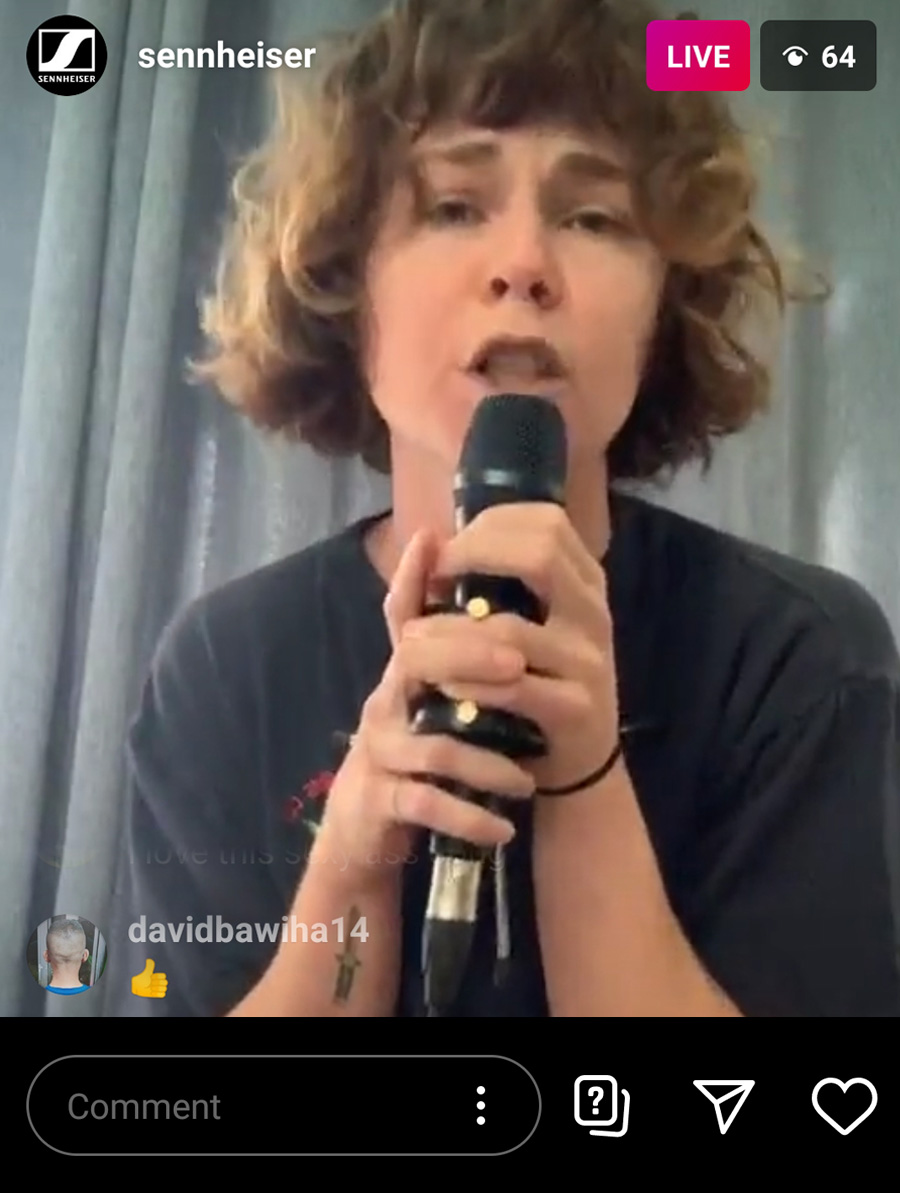 The world of Sport
Sporting events around the world recently came to a shuddering halt, many cancelled, some postponed. Marketers had to find new ways to engage and entertain following events that were unlikely to have been in their 2020 marketing plan.
An increasing trend is asking for followers to contribute. Teams have been posting fan art, skills videos and questions from followers. Nothing new in social media, but certainly an exponential increase in demand for follower generated content.
We have seen a shift from live and latest to nostalgic and engaging. Kudos to the football teams who began playing connect 4 with each other on Twitter. Many began streaming live, at-home training sessions on social media. Many sports socials are helping their fans relive classic moments from their history, in many cases asking followers to vote for the one they wish to see. I recently relived Tottenham's classic Champions League classic against Ajax (that commentary!) and the Cornish Pirates claiming the inaugural British and Irish Cup at the Rec, an event I was at, against a strong Munster side.
Football Twitter has even set up a tournament where players from certain teams play FIFA which is streamed live!
Finding new ways to engage and inspire an army of loyal fans has appeared seamless. We have even had a virtual Grand National with the main event in the horse racing sporting calendar being called off.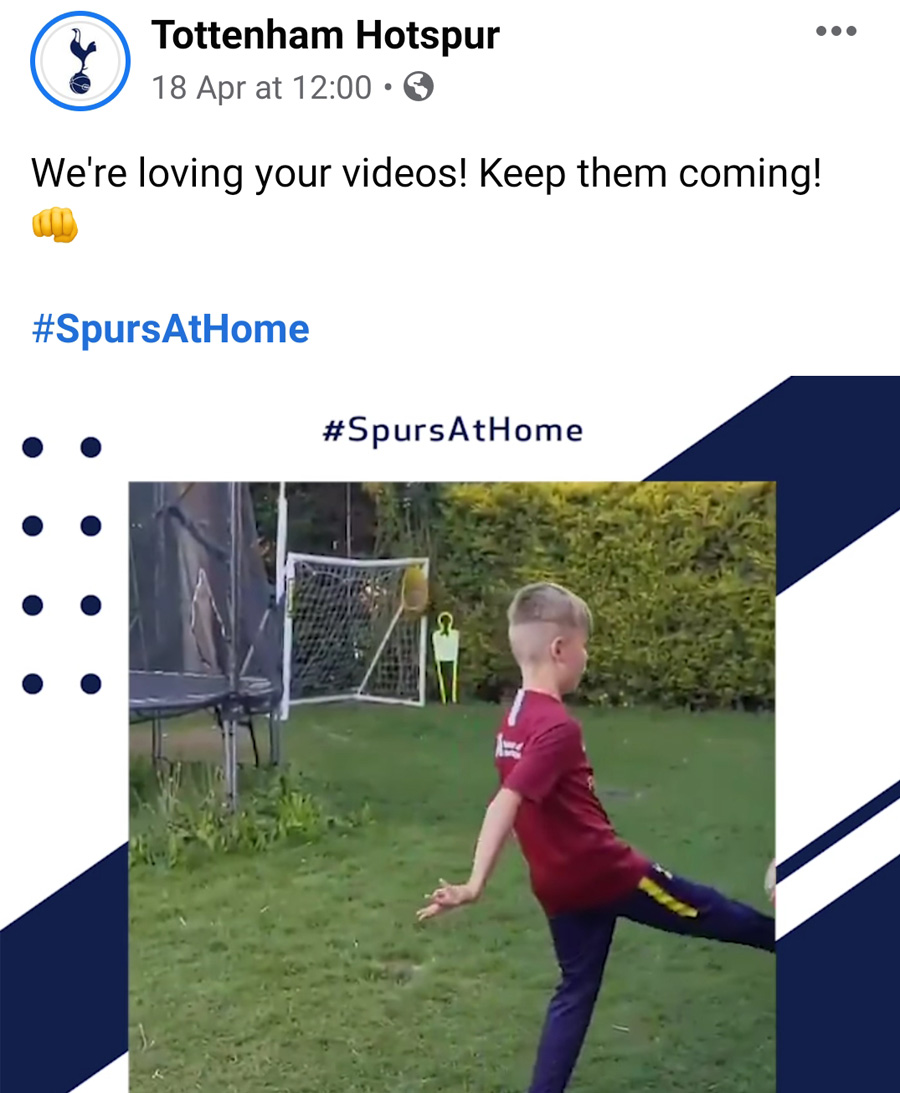 Community Integration
Communities are notoriously great in a crisis. There was already a trend towards community social long before the recent Coronavirus outbreak. This is another trend that has simply evolved in recent weeks. People care about people. Facebook has seen an increase in messages and pages set up to support the local vulnerable people, offer help and services. A great page set up that I have  particularly enjoyed during this period is Today My Kids Did… a great community page where parents share their ideas for keeping children entertained (and parents sane!) during this difficult time.
Other things technology and social is giving us…
Online meetings
Technology is proving to be as vital as ever at keeping businesses moving forward. Online meetings using technologies such as Google Hangouts, Zoom and Microsoft Teams are allowing organisations to communicate and collaborate and keep the business moving forward when it is most vital to ensure it isn't standing still.
Not content with this just falling into the 'communication' category there have also been many entertaining moments to take from it.
A sight that can never be unseen is the huge number of at home workers wearing a shirt and tie…and not much else as they position their top half carefully in the camera of their team meetings.
Recently posted on Twitter was a Microsoft Teams meeting where the manager had accidentally turned her face into a potato. She didn't know how to turn it off so spent the entire meeting this way. (Credit: @PettyClegg)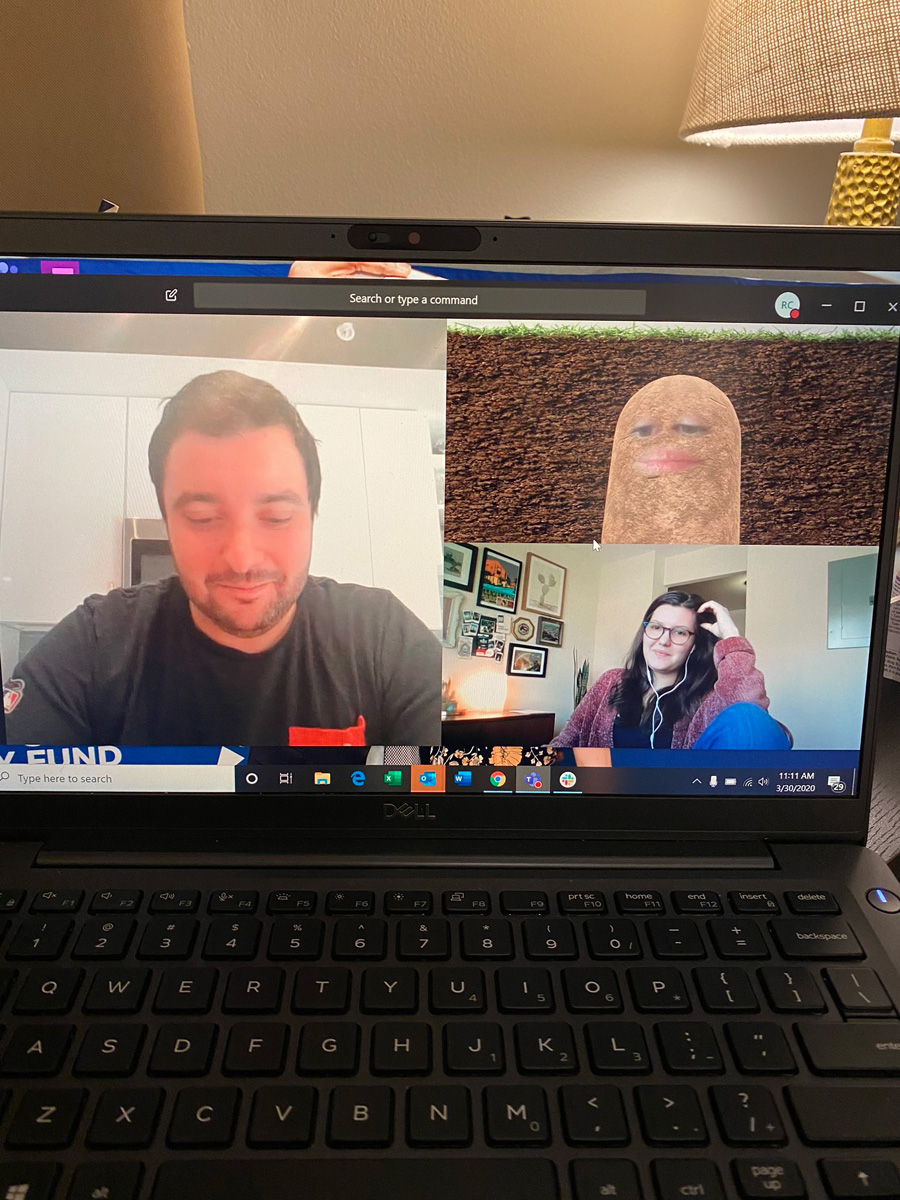 Instant 24/7 News
Thanks to platforms such as Twitter and mobile apps, we have 24/7 breaking news at the push of a button. Following a cross section of news outlets and hashtags can allow you get news as soon as it breaks. News apps send instant notifications to your mobile device.  During a time of unprecedented crisis there is a greater need than ever to stay connected and keep updated. Ensuring the world is aware of the current situation, new protocols are instantly and quickly distributed, messages are ubiquitously spread in a way never before seen. Provided you avoid the fake news of course!
To the future
This article was written around four weeks into lockdown and has special meaning in this context. I believe the good always outweighs the bad on social media and with technology, and I will continue to campaign for its proper use.
"What will be most interesting is how marketers interpret and react to these changing trends. Online advertising has already seen a sharp spike as marketers attempt to catch people at home during the current lockdown surfing on their plethora of devices with extra time on their hands. This has removed advertising from newspapers and print media. The sudden drop in print advertising will be a dip in an increasingly downward trend as cheaper, more trackable and targeted digital channels have taken over."
Companies that had previously been falling behind have been thrust into a new world of technology, levelling the playing field somewhat. Organisations will have to adapt at an increasingly fast pace just to stay in the game. No longer will refusal to join the digital revolution be an option as competition intensifies with businesses trying to survive in the fallout.
I, for one, hope a lot of the current trends stick around. More music listening parties, live DJ events, people talking to each other, laughing with each other, motivating each other….
One thing is certain, there has never been a time in recent history where experienced marketers are needed more.
Anyway, enough from me. Go discover…or better yet let's see you contribute…5, 6, 7,  8…..