The Background
What better place to start than my own logo and branding! Having spent almost a decade producing materials, logos, websites and the like for other people it was about time I did it for myself. Many projects and a hectic work life (and a wedding and the birth of my son) meant this project was delayed longer than I had hoped. But finally I was able to be my own client!
The Proposal
I wanted a simple, clean logo and branding that helped show who I am. The portfolio, the logo and the branding wasn't about a company or organisation, but an individual, a real life single person. The logo needed to contain my name, but I wanted subtle notes to point to what I was about without being too obvious. The colour scheme also had to match my personality in some way.
The Result

The logo is made up of my first and surname and also my middle initial. The curly brace at the beginning makes a lower case 'r' for my christian name and a lower case 'l' for my surname. Turned on its side the curly brace also makes the 'w' for my middle name William, something my grandfather would never forgive me for omitting! Of course the curly brace is commonly used in computer code, especially in scripting languages and CSS.
The '@' symbol makes up the 'a' in my christian name as a way of emphasising cross-discipline. My work, while it can and does involve code, is much more broad and the '@' symbol is commonly used in social media.
The font was chosen for its readability, especially due to the other elements making up letters.
The colour scheme was chosen for two reasons. Firstly the electric blue and grey are colours used by my biggest love outside of my family and friends, Tottenham Hotspur Football Club. The mighty Spurs! With over 30 years of pain and, not much, glory I felt it only right to have my logo influenced by my lifelong support of the Lilywhites.
To avoid any copyright issues (jokes), to differentiate myself and because the original grey didn't test too well when I tested it for readability I decided to choose a darker grey. What better way than to include my son Thomas!  He doesn't know it yet but his cute, chubby outstretched arm and hand pointed to the grey you see before you.
And there you have it…me in logo form!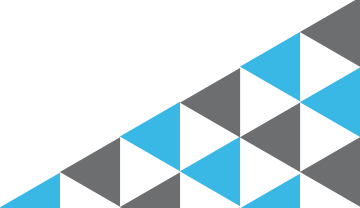 The additional branding came from my wife Kelly's obsession with decorating the house in isometric shapes, especially triangles. I hope this doesn't sound like a criticism because I promise you it isn't one. My wife is quite brilliant and I love her with my whole heart. If the isometric shapes are good enough for her, they're good enough for me!
This allowed me to include my son, wife and football team into a logo and branding that displayed my name, subtly expressed my offer and, I think, looks the part.
Having a vision for the logo and branding and how it can be used across media is vitally important. The curly brace is used throughout the site on page headers and logos and graphics as is the simplistic font with the dual colour or outline design. The colour scheme works well across the pages of the site and can transfer to social media and printed materials with ease.
The contrasting dark and electric colours ensure content is highly visible and makes for a striking visual on screen and in print.