The Background
At the end of my university degree I needed a project to complete my degree with honours. A very good friend of mine, and best man at my wedding, needed a website and branding for his two piece acoustic band called Blackbird. I really wanted a live project for my honours project to enable me to use my academic knowledge and experience with my time in the Web and Database Team with the Peninsula College of Medicine and Dentistry.
The band was relatively new and upcoming within the local music scene. They had already completed a number of gigs, but needed a logo for use across printed and digital media to advertise the band and get recognition. The logo would be used for drum skins, banners, posters and the website I went on to create as part of the honours project.
The Proposal
Having a friend as my first client allowed for a lot of creativity. The difficulty with this being my first project was understanding the vision of the band. I used an iterative approach to what I deemed a semi-intangible project to evolve the design into the final solution. The only things the client was sure of was the use of dark colours with reds. I submitted an initial set of logos with different fonts and designs after researching other bands and bird related designs. It was decided that the logo set I produced was a bit too corporate and, after another creative meeting, the client stated they wanted the logo to be edgier with a rocky vibe to it.
I went away with the updated brief and designed a logo subset that took these things into account.
The Result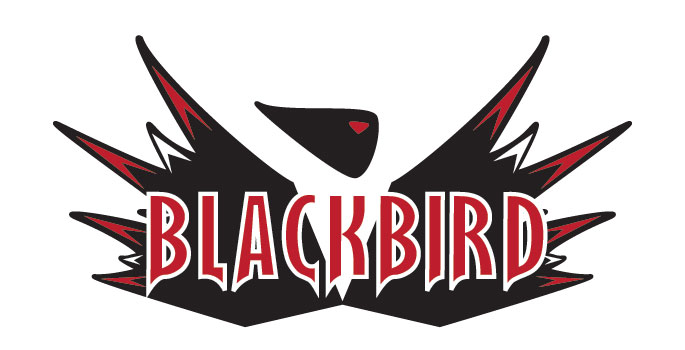 The logo displays an abstract and symmetrical set of wings. The idea was to make the blackbird look menacing with coloured feather tips and splayed wings. The head and especially the eye have been designed to look like a plectrum to denote the acoustic nature of the band. The rocky font was selected to fit the bands persona and colour scheme used fitted the client's vision.
The logo works well across media and makes a stunning backdrop when the band is on stage. My only criticism would be the bands hard, rocky vision of the band doesn't fully represent their offer, especially as the band evolved. The band's set comprises of a mix of harder and softer rock with the rapport and fun the duo have on stage being their strongest selling point.