8 Free, simple online tools for marketers (and other office workers) to help you work more efficiently, which are also great when working from home.
I was in the middle of this blog post when the world was turned upside down through Covid-19, an unprecedented and terrifying time in the world. This explains the awkwardly long title. It started off just 'Free online tools for marketers' before I felt the need to add the rest.
It was originally a post to promote some free online tools I have used through my career as a marketer that I now couldn't live without. Since the Coronavirus outbreak, many people have been forced to work from home from an array of disciplines. Hopefully you all find a little gem in the list below which will help you in your chosen profession.
The following tools are all free to use and are listed in no particular order. Each have made my life as a marketer so much easier. Hopefully you can take something from this blog post, whether you are an experienced marketer, new to the discipline or not in marketing but looking for some useful tools to help you work more effectively and efficiently.
Although these tools are free, remember you can usually donate to the developers via PayPal as a thank you. Just a heads up…I use PC and Android so there will be no Apple products mentioned here. That's a blog post for another day!
I appreciate you will have your own favourite tools and I would be delighted to hear your thoughts in the comments. After all, us marketers are a great bunch for sharing our wisdom to help others!
1. I Love PDF 
Where to start! This amazing browser-based application, as explained on their home page, is 'Every tool you need to work with PDFs in one place.' If you work with PDFs this really is a lifesaver.
Simply drag and drop your chosen PDF into the browser window and you can merge, split, compress, convert, watermark, rotate, protect, organize, unlock and repair your PDF document.
There are some restrictions such as maximum file size, and a couple of tools aren't available for free but I have yet to come across a task that can't be completed. There is also no registration required.
Some examples of what I use if for as a marketer:
Quickly reduce the file size of a PDF to upload to a website
Converting a PDF to a word document to allow you to edit its content
Converting a PDF to a JPG for use on social media
Rotating a PDF that has been sent to me
Splitting the PDF document or removing or reordering pages
The possibilities are endless. It is easy to say, I love I love PDF!
2. Photopea
Photopea is a superb and convenient online photo editor, a web based and free Photoshop if you like, supporting PSD, XCF, Sketch, XD and CDR formats. I have the Adobe Creative Suite, and this certainly isn't a replacement for Photoshop, but it allows you to edit your photos in your browser for free. The setup is very similar to Photoshop, as are the tools and effects you can achieve. It allows you to create a new image or open an existing one and save as PSD or export as JPG, PNG OR SVG. There is also no registration required.
Some examples of what I use if for as a marketer:
Cropping photos for web and social media
Brightening and improving images for web and print
A great suggestion to business owners when you pass a content management system to them
Adding effects to images…..
The list is endless and they offer a 'Learn' area to help you get up to speed.
Bravo to the developers for creating such an amazing and comprehensive tool and for keeping it free.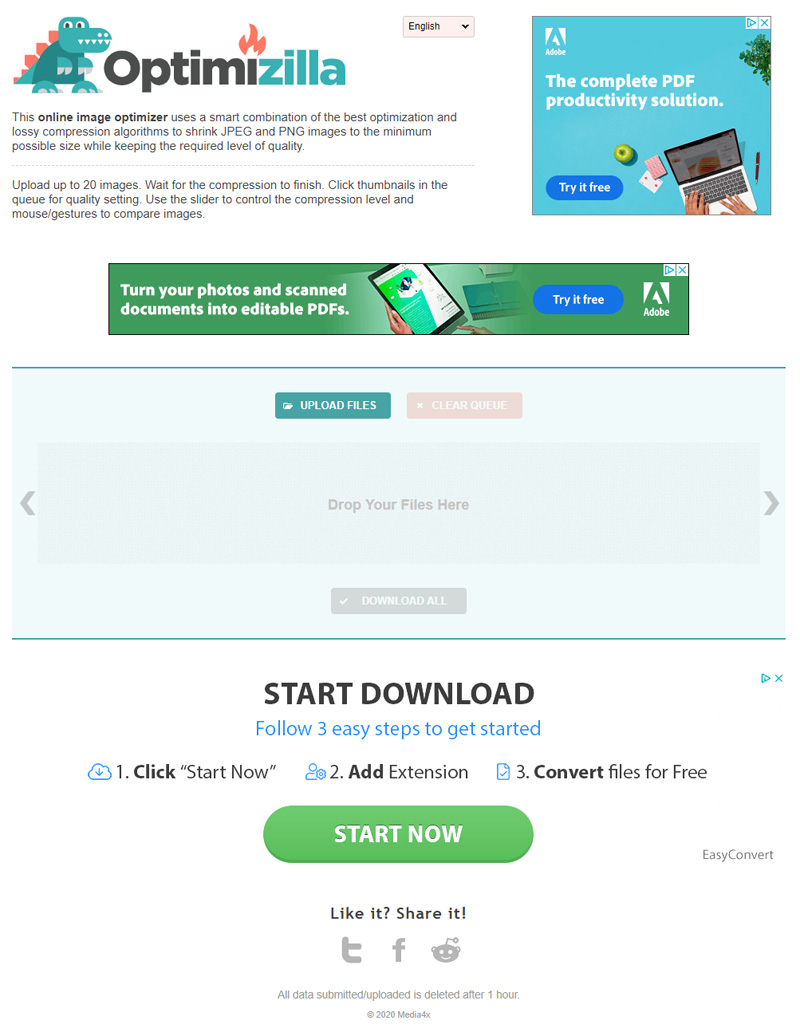 3. Optimizilla
This fantastic tool allows you to quickly and easily reduce the file size of images and "uses a smart combination of the best optimization and lossy compression algorithms to shrink JPEG and PNG images to the minimum possible size while keeping the required level of quality."
No account set up is required and you simply drag and drop the images into the browser window and within a few seconds the images are compressed. The best thing about this tool is you can drag up to 20 images into it for optimisation in one go! You can then 'export all' and it will save them all into a neat zipped file.
Some examples of what I use if for as a marketer:
Reducing image file size when sending images via email
Reducing image file size for upload to web (it is always a better idea to use a tool like Photoshop or Photopea to change the image dimensions and export for web however)
Reducing image file size for upload to social media, especially when using a social automation tool like Hootsuite which restricts file size to certain social channels
4. Screenpresso
There are many free screenshot tools, all with very similar functionality. Screenpresso is a light-weight screen grab tool with built-in image editor, user guide generator and sharing options. It allows you to capture an entire page, selections and even record video.
Some examples of what I use if for as a marketer:
Capturing bug reports to resolve web issues
Sharing a selection of your screen with a work colleague or external agency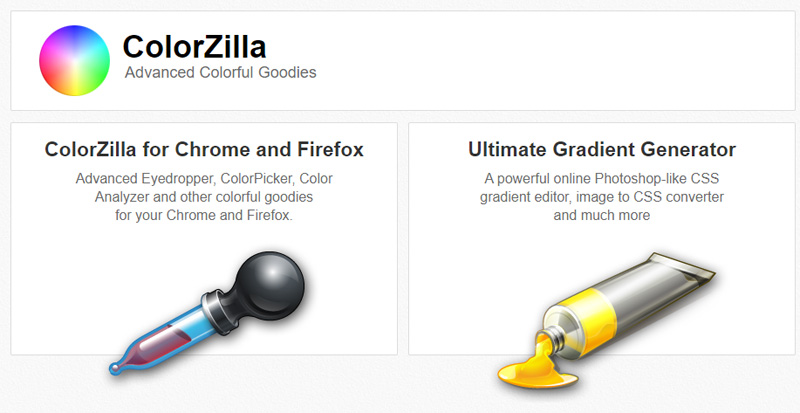 5. ColorZilla
This handy tool is a primarily a colour picker extension for Chrome and Firefox web browsers. ColorZilla includes a Color Picker, Eye Dropper, Gradient Generator and many additional advanced color tools. You can get a color reading from any point in your browser, quickly adjust this color and paste it into another program. You can analyze the page and inspect a palette of its colors. You can create advanced multi-stop CSS gradients.
Some examples of what I use if for as a marketer:
Colour picking online logos for use in design projects
Analysing colours and copy and pasting them into Adobe Creative Suite programmes for print and web.
6. Google Drive
You've got a Google account…right? You know they own us…right?? Jokes aside, if you don't have a Google account you can set one up here https://accounts.google.com/signup and this will give you access to the many products Google have to offer like Gmail, Google Forms, Google Docs and many others which are best saved for another blog post.
Google Drive allows you to store documents and images in the cloud for you to pick up anywhere with an internet connection from any device. It also allows you to organize your files in folders and share folders with others Google users.
Some examples of what I use if for as a marketer:
Storing work files and images whilst in the office to pick them up remotely
Sharing files with colleagues, printers, design studios etc. when collaboratively working on a project
You get 15GB of storage for free HOWEVER…this does include your Gmail messages and attachments and Google Photos. I have always found this 15GB limit more than enough for basic business use and you can buy more space if required. But what if you need to send much larger files…
7. WeTransfer
We transfer allows you to send much larger files up to 2GB and is "the simplest way to send big files around the world." There is no sign-up required, you simply drag and drop your file, enter your email address and your recipients, a message if required and the recipient will receive an email link to download their files.
There is a paid version which allows you to send files up to 20GB and includes 1TB of storage.
Some examples of what I use if for as a marketer:
Sending and receiving original video files for YouTube upload
Sending and receiving print ready images for projects
Sending and receiving large PDF files, especially press quality and files ready for print
8. WhatsApp
Communication is vital, especially when working remotely. WhatsApp has been a popular choice with individuals and business for years and offers "fast, simple, secure messaging and calling for free" on Android, iPhone, Mac and PC.
You will need to set up a free account but will then have the ability to send text messages, images and short videos and the ability to call and video call, all for free! You can also send a huge selection of gifs and emojis, be careful though…an eggplant isn't always an eggplant. One of the best features is the ability to set up a group chat.
Some examples of what I use if for as a marketer:
Setting up group chats for work colleagues or with external agencies for updates and collaborative working
Video calling to show work progress in real time
"All that's left for me to say is, stay safe and thank you a million times to the NHS and all front line staff and key workers. You are all utterly amazing. Hopefully some of you will be reading this in a Coronavirus free world."